Home Safety Surveys
We believe one of the most efficient ways to fight a fire is to never allow it to start. This philosophy and our resident's willingness to let us in their homes has led us in the direction we are taking now.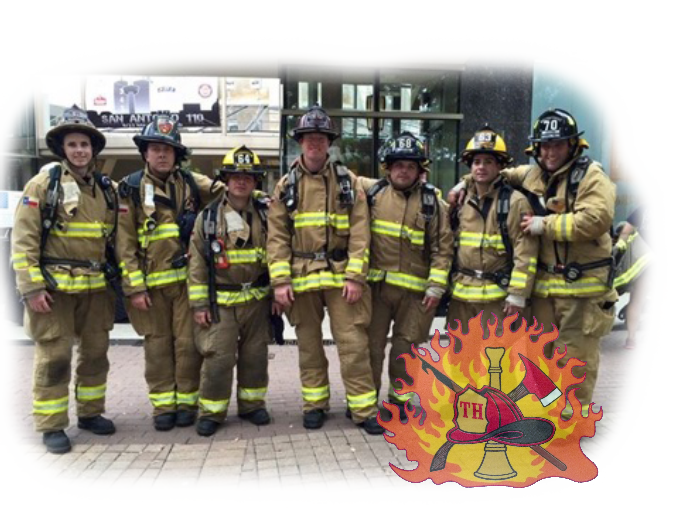 Mission
The mission of the Terrell Hills Fire Department is to provide the highest quality of service to the citizens of this community by:
Minimizing the loss of life and property of the citizens through suppression and prevention of fire,
Providing emergency medical care to the citizens,
Preventing accidents and injury to emergency service personnel,
Mitigating the consequences of natural and man-made catastrophes,
Setting goals for the continuous improvement of the system
Providing non-emergency services to the community twenty four hours a day, seven days a week.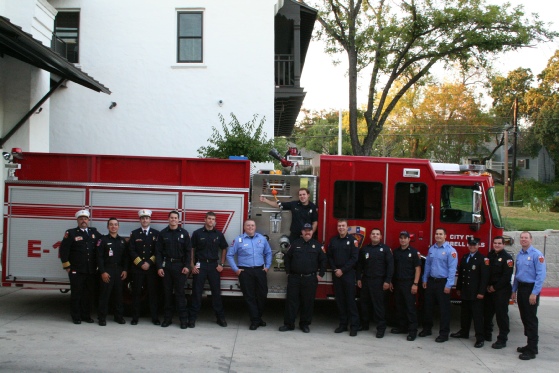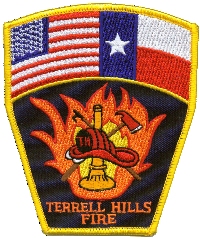 Memorial Tower Climb - September 11, 2015
Tower Climb at Tower of Americas to memorialize the 343 lives lost by firemen during the attacks on September 11, 2001.
B-Shift Hose Drills
B-Shift performing hose drills at a house that is set for demolition.
Residential Fire Prevention
A-Shift is out on the streets going door to door preforming in home fire safety surveys.
Hazardous Materials Training
Need a description....
Since 1957
The Fire Department has been a paid/career since 1957 fire crews have ranged from volunteer prior to 1957 to career crews with a rotating shift from 9 to currently 15 Firefighters. Each shift has 4 Firefighters on duty, the shifts are 24 hours on and 48 hours off. The shift can operate with a minimum staff of 3 firefighters, during the week both the Fire Chief and the Assistant Fire Chief are on duty as well. The Fire Chief works Monday through Friday from 7:00 am to 4:00 pm, the Assistant Chief works a modified shift schedule combining both 24 hour shift work and week day Shifts.
24 x 7
Each Shift has a primary role for the Fire Department that they oversee. "A" Shift, oversees, plans, participates in and tracks all department training. "B" Shift, takes care of all maintenance related to the Fire Department. "C" Shift, tracks and schedules all Business Inspections and Home Fire Safety Surveys. The Assistant Chief is in charge of the overall operations of the Fire Department, he also rides out and operates as the Incident Commander while on duty either during daily or shift hours. The Fire Chief while ultimately responsible for all Fire Department operations also carries other duties of the city on a daily basis.
Apparatus
Through out the years Terrell Hills has been protected by various types of apparatus from a hose trailer primarily used to fight grass fires to the first actual fire pumper the city owned. That first pumper was a 1957 International 190 Series. The second apparatus purchased was a Chevrolet which was used for ladder hauling and smaller incidents. In 1974 a Simms Fire Apparatus Ford F-900 750 GPM Pumper was purchased. The 1957 International stayed in service until it was replaced in 1991 with a Pierce Ford F-800 1250 GPM Pumper. The 1974 Simms Ford apparatus stayed in service until 2002 when it was replaced by the current 2002 Ferrara Freightliner FL-80 1250 GPM Pumper. The department has also had smaller support vehicles primarily used for running smaller tasks, and eventually EMS first response. These vehicles were usually retired patrol cars; however, in 2006 the Department purchased a Ford F-350 to provide EMS response and a Command Vehicle for the Officer in charge on duty.
Emergency:
Dial 9-1-1
Non-Emergency:
Direct line to Fire and Police Dispatcher
Take 10 Minutes to learn CPR!
The Terrell Hills Fire Department is available to teach "Hands Only" CPR classes on request. Learning "Hands Only" CPR only takes about 10 minutes and will provide you with the knowledge and abilities to save a life in the event of a sudden cardiac emergency. For questions or more information please call us at 210-824-7401 or
send us an email
.
Subcategories
Fire Department Apparatus
The Terrell Hills Fire Department proudly serves the community with the following apparatus. Click on the pictures to view them larger.