Do you have a new baby on the way? Maybe you're just not completely sure you have your current seat installed correctly?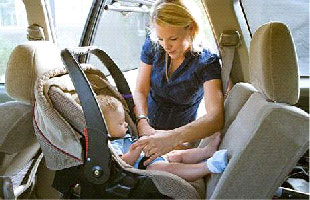 Well we have good news for you! While we don't offer it here, there are several agencies in the San Antonio area that offer car seat installation services.
Review the links below to contact a car seat installer. They will ensure your car seat is in good condition and safely installed in your vehicle.
Car Seat Installation Providers
(November 2012)
Methodist Healthcare – Buckle Up Baby Program
8109 Fredericksburg Rd
210 575-0355 or 800 333-7333
Reservation only
Shertz EMS
1400 Shertz Parkway
210 658-6678
DSHS Safe Riders Program
800 252-8255
University Hospital- Child Health and Safety Awareness Dept.
210 358-4295
Install only on Wednesdays 9am to 11 am
Must make a Reservation
Christus Santa Rosa Children's Hospital
333 N Santa Rosa St
210 704-3638
USAA
9800 Fredericksburg Rd
210 498-3422
Children's Hospital of San Antonio
12222 Vance Jackson Rd 1712
817 891-3424
New Parent Support Program
7803 Eastbrook Farm
210 292-0414
The Children's Shelter
2939 W Woodlawn
210 212-2591
Texas Dept Of Transportation
3500 NW Loop 410
210 731-5218