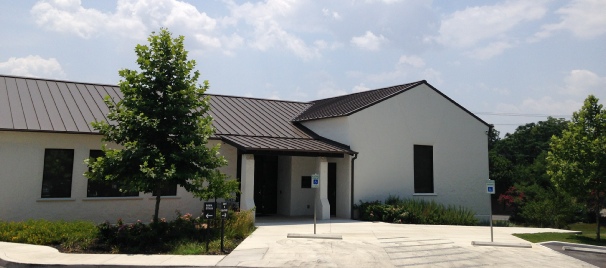 Terrell Hills Municipal Court
Municipal Court is held on the third Thursday of each month at the address below and begins at 8:00 am. The Municipal Court Judge and Prosecutor are only available on this day of the month and times.
Your name must be listed on the docket to see the Judge or Prosecutor on the day court sessions are held. If you are younger than 17 years of age and received a citation, you MUST appear on your court date with a parent, guardian, or managing conservator. If you miss your court date, you must contact the Clerk to make arrangements for your case to be reset or paid in full. IF YOU FAIL TO APPEAR, AN ADDITIONAL CHARGE WILL BE ISSUED AND THE ISSUANCE AND EXECUTION OF A WARRANT FOR YOUR ARREST WILL BE SERVED. THE TEXAS DEPARTMENT OF PUBLIC SAFETY WILL PREVENT YOU FROM OBTAINING OR RENEWING YOUR DRIVER'S LICENSE UNTIL THIS MATTER IS RESOLVED.
Have you received a citation in Terrell Hills?
Take care of citations at this location during the hours the Court Clerk is available.
Online Payments
Speeding - $134.00 Plus $5.00 for each additional mile over the posted speed limit
Disregard Stop Sign - $183.00
Driving While License Invalid (DWLI) - $178.00
Expired Drivers License - $133.00
Expired Registration - $133.00
Fail to Display Drivers License - $133.00
Fail to Maintain Financial Responsibility (Insurance) - $333.00
Fail to Report Change of Name/Address on Drivers License - $133.00
Failed to Signal Turn - $183.00
Failed to Sop at Designated Point (Stop Sign) - $183.00
Defective Head Lamp - $183.00
Failed to Stop for School Bus or Remain Stopped - $348.00
Minor in Possession of Alcohol (MUST see Judge)- $278.00
No Drivers License - $133.00
No Seat Belt (Driver) - $298.00
No Seat Belt (Adult Passenger) - $298.00
Open Container (MUST see Judge)- $278.00
Possession of Drug Paraphernalia (MUST see Judge) - $278.00
The above listed violations may be dismissed upon showing proof that the violation has been corrected. If your violation is not listed above, or for details on how to remedy your violation, you may contact the Court Clerk.
Deferred disposition (Article 45.051, C.CP.) holds your case in a pending status for up to 180 days. During the period of deferred disposition you may be required to abide by certain terms and conditions. If you comply with the terms and conditions as set forth by the Judge, your case shall be dismissed and will not be reported as a conviction on your driving record.

To qualify for deferred disposition, you must make a request to the court in person or in writing. To be eligible you MUST meet the following requirements:


Sign a waiver of a jury trial and enter a plea of guilty or no contest
Pay special expense fee and court costs
If under age 25, you must take a driving safety course as a condition of deferred disposition
For Failure to Maintain Financial Responsibility offenses, you must show proof of valid insurance and driver's license
For Alcohol, Tobacco, Drug, Penal Code offenses, or if you are a Juvenile you MUST see the Judge in open court to make your request.
Any other special conditions as assessed by the Judge
YOU DO NOT QUALIFY FOR DEFERRED DISPOSITION IF:


The traffic offense was committed in a construction work maintenance zone when workers were present
A violation of a state law or local ordinance relating to motor vehicle control, other than a parking violation, committed by a person who holds a commercial driver's license; or held a commercial driver's license when the offense was committed.
For further information and details on deferred disposition you may contact the Court Clerk.
To request to take a Driving Safety Course (Art. 45.0511(b), C.C.P.), your request must be made on or before your scheduled court date listed on your citation, and you must meet the following requirements:
Make a formal written or verbal request to the court;
Enter a plea of either guilty or no contest;
Present a valid Texas driver's license or permit, or proof that I am a member, or the spouse or dependent child of a member, of the United States military forces serving on active duty;
Present proof of financial responsibility pursuant to Chapter 601, Transportation Code (automobile liability insurance);
Pay payment of court costs ($134.00) plus a $10.00 non-refundable administrative fee to total $144.00 at the time of request.
*NOTE - On the date of your request for a driving safety course or motorcycle operator training course, you may not have taken a driving safety course nor had completed one within the 12 months preceding the date of your current offense. This will reflect on your driving record as maintained by the Texas Department of Public Safety (or as maintained by the state that issued my driver's license - active military duty personnel only). Furthermore, an Affidavit must be signed under oath verifying this information is accurate.

All of the above documents must be presented to the Court Clerk in person or by mail at the time of your request.

You DO NOT qualify to take a Driving Safety Course if any of the following pertain to you:
An offense committed in a construction work maintenance zone when workers are present
If you have a CDL license
Passing a school bus violation
Leaving the scene of an accident
Speeding 25 mph or more over the posted speed limit or in excess of 95mph
If you have any questions, you may contact thecourt clerk by phone or e-mail. Court Clerk.
Plea Form
A plea is required if you are appearing before the court after being issued a citation. A plea may only be entered by the defendant or defendant's attorney.

Payment of the fine and costs constitutes satisfaction of the judgment and a plea of guilty or no contest may result in a conviction appearing on either a criminal record or a driver's license record.

For a plea of not guilty, please check whether you are requesting a jury trial or a trial before the Court. A court appearance is required in person for this option, therefore you must appear in open court on your assigned court date.
Motion for Continuance
*Notice: To request a continuance to reset your court date, a written Motion for Continuance stating the reason (good cause) for the continuance must be filed with this Court on or before your scheduled court date. Failure to comply with this notice requirement may result in your motion for continuance being denied.
What are the hours of operation?

Monday through Friday from 8:00 am to 5:00 pm

How do I get to the Court?

What methods of payment do you accept?

Can I make payment arrangements?

You must

contact the Clerk

for payment arrangements, on or before your scheduled court appearance.

Can a trial date be changed over the phone, or do I have to appear in court?

No, you must appear in person or you can mail or fax in a request. The request must be made before your court date.

Can I request a jury trial?

Yes, but you must make the request to the Judge on your assigned court date.

If I have an active warrant(s) or outstanding violations in the City of Terrell Hills, will I be arrested?

A person with an active warrant may be arrested at anytime; however, the general practice is not to arrest an individual who is making an effort to resolve an unpaid violation.

My driver's license is about to expire. Can I renew my driver's license with an outstanding warrant(s)?

No, the Texas Department of Public Safety will not allow you to renew your driver's license with outstanding warrant(s). You must appear at the Municipal Court to make the payment for the outstanding warrant(s).

Can I send a friend or relative to pay for my citation?

No, the Court does

not

accept payments from relatives or friends of the defendant. The defendant must appear in person.
Subcategories